Public:Halloween Party 2014
Jump to navigation
Jump to search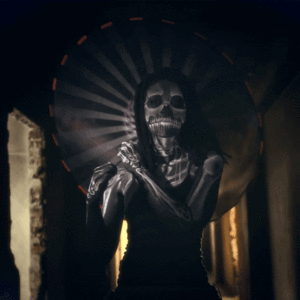 Some of the most dangerous drugs aren't on the streets...
They are under your sink.
Welcome to the Annual Halloween Party Wiki: your one stop shop for photos/videos from previous parties, recipes of some foods served, tee shirt designs, and upcoming plans as well as a FAQ for folks that can't seem to figure out what exactly a multi-day party encompasses.
This page is publicly viewable, but not everything it links to is Public. Pages which begin with the name Public: are world-readable. If you click on a link and it asks you for a login, and feel like you should be able to get to that content, please contact an Administrator, like Grahams and request an account.
Also, remember the public nature of this page when editing it. Only add content which you are comfortable with the whole world seeing.
If there's something you'd like to know about or see here, let the host and hostess know.
-The Hosts.
Dates and Brand-New NON-DRYDEN Location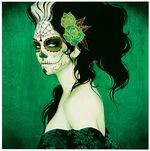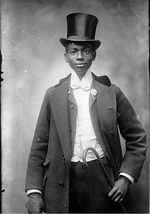 The new address is:

  86 Route 43
  Stephentown, NY 12168
  (close to the border of Massachusetts)

If you are planning on flying in, the tiny Pittsfield Municipal Airport is closest, but is probably expensive. The next closest is the Albany International Airport. If you are looking for a direct flight, your best bet is probably Boston Logan. Please let the hosts know ASAP what your flight plans might be so we can discuss how to get you to/from the airport.
Trick or Treating
For those interested in going trick-or-treating, we will be going to Hancock, MA the evening of the 31st. The plan is to leave around 17:48 (sunset)
Accommodations
Please visit http://www.4sg.com/properties/yourownbb/ to get a sense for what the rental location is like.
All overnight guests will be given complimentary earplugs in case they wish to try to sleep through revelry.

Fundraising (a.k.a. How the heck are we paying for this new venue?)

At last year's party, the Hosts announced that, given the inability of everyone to stay at the same house for the length of the party, that it was time for us to move the party to a larger venue in Stephentown, NY (near the Massachusetts border). Thanks to the original work done by Sean Stanley, and the web searches and phone calls made by Corinna Baksik, Giles Hall, and Sean Graham, we have found a lovely, large place (13 bedrooms, 11 1/2 bathrooms) that should accommodate all of us. You can find more information about the place here.
This does mean that we are asking for donations to help cover the rental cost. Based on some back-of-the-envelope calculations on what people have been paying to rent hotel rooms, rooms at bed-and-breakfasts, and houses, we think renting this location will end up being cheaper overall, AND allow us to all be under one roof for the duration of the party.
Please don't think this is a pay-to-play situation. The Hosts have been very concerned about that idea for years because we acknowledge financial realities. If you can contribute to this cause, please do, but even if you can't, you should still come! If we have the same number of people attend this year's party, and if people pay what they paid for hotels at previous H-Parties, we should be able to hit our financial goal.
Sean Graham has volunteered to be in charge of the financials, and you can donate funds using paypal, venmo, cash, or check:
Paypal: paypal [at] sean-graham [dot] com
Venmo: venmo [at] sean-graham [dot] com
Address for checks: Sean Graham, 34 Howard Street, Watertown, MA 02472-2237
Words of Wisdom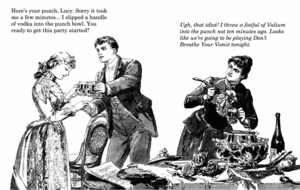 'And ye harm none do what thou wilt'
Keep in mind, however, that there might be small children around some of the time. Along those lines:
There are various signs up helping with behavior choices.
No slipping minors candy, alcohol, drugs or even juice (without clearing it past parents).
When in doubt, ask the Hosts or a representative of the Hosts(Moarloks)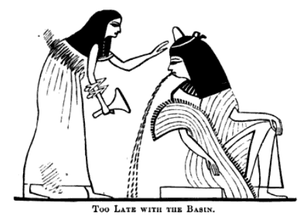 Three bowls do I mix for the Temperate:
One to health--which they empty first--the second to love and pleasure, the third to sleep. When this bowl is drunk up, wise guests go home.
The fourth bowl is ours no longer, but belongs to violence,
the fifth to uproar,
the sixth to drunken revel,
the seventh to black eyes,
the eighth is the policeman's,
the ninth belongs to biliousness,
and the tenth to madness and the hurling of furniture.
-Eubulus, 375BCE, writing on wine.
Shirts
Casey Girard has volunteered her time to produce this year's shirt design. The design features a character from a book she is working on, and harkens back to the very first H-Party teeshirt design, while capturing the odd survey questions we had this year. CAAAAAAWble!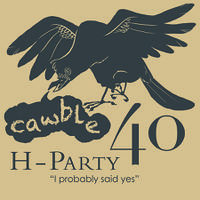 Order details will follow soon.--SeanT (talk) 07:43, 26 September 2014 (UTC)
What are the shirt profits used for?
The tradition of selling clothing dates back to the first H-Party (back when it was called 'a Halloween party'), and the proceeds went to help pay for someone to attend. Since then, few people have needed the financial help to attend. Instead, the proceeds go to help pay for the rental, buy food and drink, etc.
Costs
We're still waiting to hear an exact cost, but the best estimate we have on shirt costs is ~20$/shirt.--SeanT (talk) 17:09, 1 October 2014 (EDT)

RSVP - (Please give projected arrival time and sleeping arrangements)
Please RSVP via email as soon as possible as much planning has to occur to pull this party off.
Email invitations have been sent to those on the Halloween Party Invite List 2014.
The 2014 invites have been sent. WOO!--SeanT (talk) 20:02, 30 August 2014 (UTC)
Glassboard Slack Backchannel
There is a Glassboard forum available for backchannel communications leading up to and during the party. You can use the invitation code gdhkk. Glassboard is kind of group SMS/Text with a splash of web forums.. There are (free) clients for iOS and Android as well as a fairly comprehensive web client.
Glassboard is going out of business in the middle of hParty, so we are trying to find a good alternative. We're giving Slack a swing. If you have an ice-nine.org email address, you can sign yourself up for the Imaginary Bridges Slack group here. Otherwise, email grahams and he'll send an invite to whichever email address you prefer.
List of Activities and Things to Expect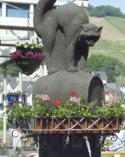 Wednesday Events
Thursday Events
Friday Events
Saturday Events
Halloween Party Music
If you play an instrument that is roughly portable, people will want to make music with you. For song ideas and suggestions you should see at:
Food
Important note: Sophus is on a special diet. If you want him to be able to eat something, foods must comply with what is found on dropbox.
The management would like to better arrange the food situation for the party. The set up will be the following. If you are interested in fixing a particular dish or even a whole meal, you sign up for a particular time slot. We will need main chefs for meals and helper bees. No one person will be allowed to be a main chef for more than one full day of cooking, or more than three meals. When you sign up for service, you can declare a bunch of dishes you choose to cook, or you can wing it with local produce you find and choose to use. So sign up and give as much info or as little as you choose. If you plan to cook certain dishes, food may be purchased ahead of time if you tell us what you'll need.
Needful Things
Things we found lacking at 2014 (in progress)
Things People Are Bringing
Things We Needed More of at Last Year's (2013) Party
pressing REC on tape (we always need more of this). I'm looking at you, Rory
Things We Needed Less of at Last Year's (2013) Party
Past is Prologue
Love
hold up (I'm comin') hold on (I'm comin')
Post Party Wrap up
What worked? What didn't? Help plan for the next one!
Previous Parties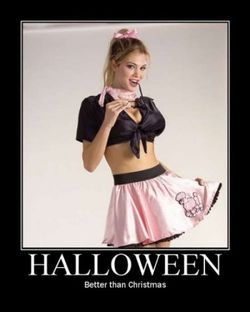 Media from previous parties
Each year, the party generates an a diverse array of images, music and video. You can look at previous year's media here.
unTEDs: wat?
2014 Hparty Planning